Sell Your Nissan Navara
We buy Used Nissan Navara 4x2, 4x4, trucks and Utes for the best price. Free Truck - Ute Valuation in Melbourne, VIC
If you have recently been looking at your old Nissan Navara 2WD or 4WD and have been having nothing but negative feelings towards it, you might have reached breaking point. Maybe it has just gotten old, or maybe you recently saw a much better 4×4 online or at the local used car dealership. Whatever it is that has soured the relationship, it is time to sell it and we both know it.
First of all, don't sell it via the normal avenues. It will take a lot of time and effort and you aren't even guaranteed to get paid the most that your vehicle is worth. Sell it to us here at Used Car Buyer Melbourne and you will be making the right choice. We buy Nissan Navara's for the most amount that they are worth, depending on the condition that they are in.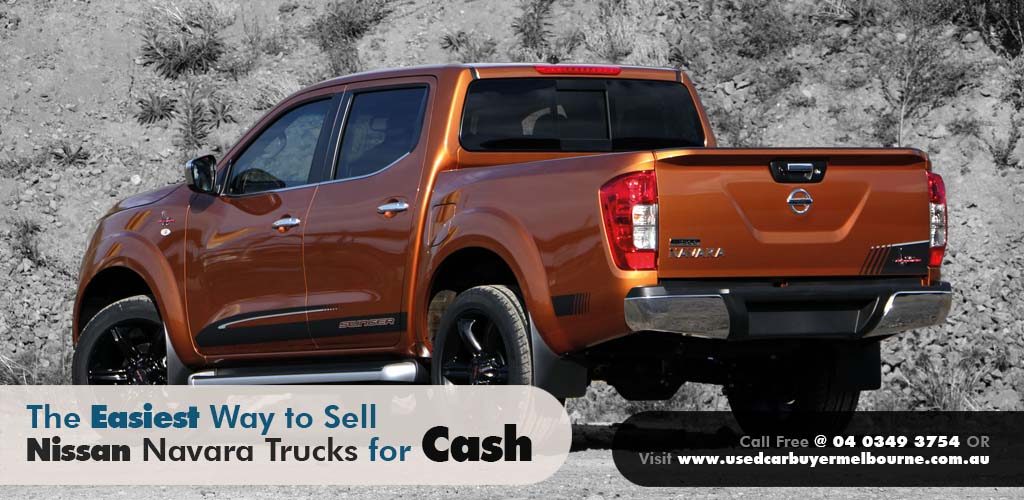 Top Cash for your Nissan 4×4 Truck
We are Melbourne's premiere truck removal company, and with this title comes an enormous amount of responsibility. We have to make sure that we are paying the most that any specific vehicle is worth. This is no less true for the Nissan Navara. The amount that we are prepared to shell out can climb all the way up to $15000. However, final price can vary based on the condition of the truck or 4x4s.
Obligation Free Quotes
We buy Nissan trucks in Melbourne and offer the free quotes. Some folk are only after a valuation of their Nissan Navara. If this sounds like you, did you know that you can find out how much yours Nissan Navara is worth quickly and easily? Once again, it is Used Car Buyer Melbourne to the rescue. Call us at 0411 70 4458 or find the free quote form on our website and fill it out. We will respond with a free cash quote in no time at all.
Free 4×4 Removal
Is the reason you are selling your Nissan Navara because it is no longer running due to disrepair? This is perfectly understandable, and you need to know that by selling to us, you won't have to pay to have the vehicle moved. We will take the responsibility ourselves. We come to you assess the truck valuation & pay you instant cash for trucks on the spot. Generally, we prefer to pay cash. However, you can choose to get the money transferred to your bank account as well.
Any Condition Is Wanted to Buy
Has yours Nissan Navara been the victim of misfortune? Whatever is the source of your vehicle's extensive disrepair, such as crash, flood or fire, we will buy it anyway. This is because there is no condition that disqualifies a vehicle of any sort from having valuable materials and parts that can be salvaged. So don't be shy and contact us today.
Sell your 4×4 in Melbourne because the crew at Usedcarbuyermelbourne is absolutely passionate about buying and selling 4×4 trucks and Nissan Navara is one of them. We always ready to pay more for the 4WD trucks so get a free quote today and do not miss the opportunity to get paid even more.