Sell Your Toyota Hilux 4×4
We buy old Toyota Hilux 4x4 or Ute for the top price & offer the truck removal service through Melbourne, Victoria
The Toyota Hilux is a reliable series of light commercial automobiles produced and well-engineered by the Japanese manufacturer Toyota. But even a durable or dependable vehicle suffers from old age related problems, enormous disrepair, overwhelming damage and so on. The reason for this happening is that time takes a toll on everything that comes in its path.
But before you decide to upgrade your old Toyota Hilux with a newer automobile. You have to find a reliable avenue to sell it off. If you live in VIC, then Usedcarbuyermelbourne are the ones to contact. We are the leading light and heavy vehicle buyers. We are always enthusiastic to buy all old Toyota Hilux Series.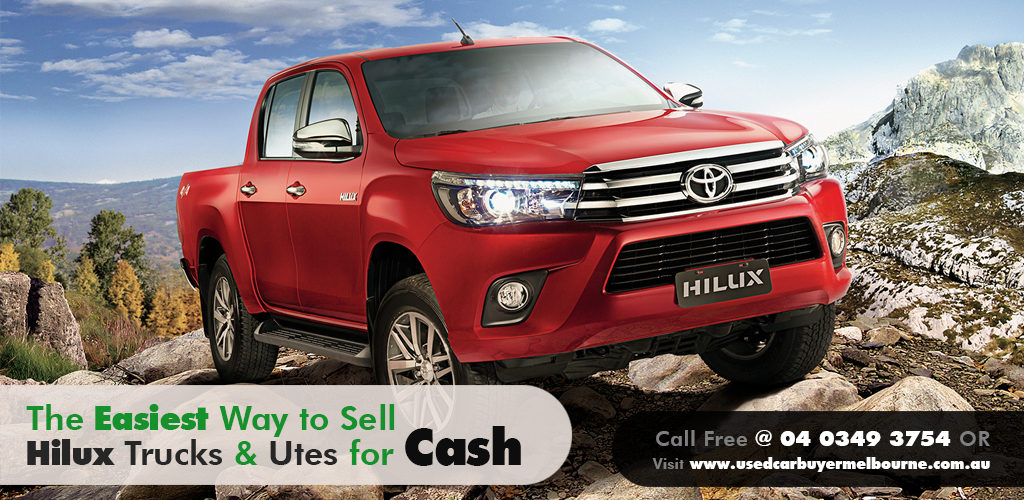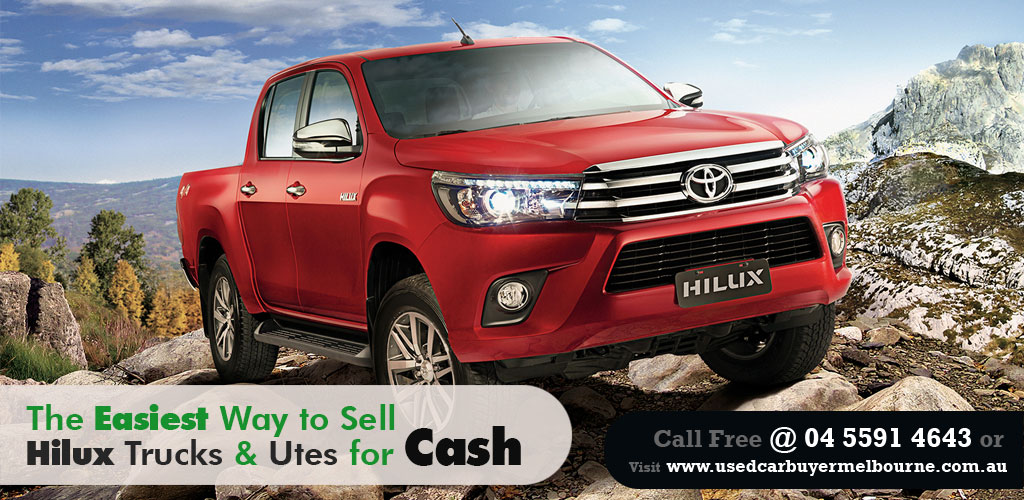 Top cash for all series Toyota Hilux 4×4 on the spot
We buy Toyota cars and trucks. If you have an old Toyota Hilux, that no longer serves any purpose to anyone because of the level of damage. It doesn't mean that you need to give up and simply leave it in a salvage yard. You can get in touch with us here at Used Car Buyer Melbourne. The crew will surely buy your old or used vehicle for best cash, regardless of its state. We can pay you up to $15,000 for your unwanted Toyota Hilux, based on its condition. We pay a handsome and fair remuneration for automobiles with a guarantee. This is applicable for all light commercial automobiles including Lorries, 4x4s and Utes as well.
We buy all series of the Toyota Hilux
The team here at Used Car Buyer are highly experienced and never desire to turn down any series of the Toyota Hilux. The fact of the matter is that, we have the skills to extract some or the other useful parts from all types of vehicles. That is why we are so enthusiastic to buy any unwanted Toyota Hilux of any series, regardless of the extent of damage in it.
In addition to this, we also have a policy of purchasing any condition automobile. The condition of a vehicle obviously affects the worth of an automobile, but we will still purchase it.
Instant Toyota Hilux 4WDS Removal Service
We kindly offer free removal of used cars & trucks and we won't charge you anything for the removal of your vehicle. We value our clients' so much that we leave their wallets as full as possible when they do business with us. So you will neither have to lift a finger nor pay a single dollar to enjoy our superb auto removal services. We will reach to you anywhere in Melbourne and offer you convenient and fast removal service with on the spot cash payment. Because we are the second hand auto buyers that provide auto owners the best and hassle-free way to sell their automobiles.
We offer free & quick cash quotes
If you are after a quick and fair cash assessment for your used trucks, you can request one from us and it won't cost you any money. In addition to this, there will be no obligations attached. So, Hurry! Contact us today, to sell your old Toyota Hilux in Melbourne and get paid instantly. You can use our number – 0411 70 4458, or fill out the inquiry form given on our website.